Dynamics GP
Originally developed under the name Great Plains Software in Fargo, North Dakota by CEO Doug Burgum in 1993, this accounting software was one of the first in North America designed to accommodate multiple users. After Microsoft's acquisition of the software in 2001, Great Plains was rebranded as part of the Microsoft Dynamics product offering in 2005. This new brand replaced Microsoft Business Solutions, and incorporated financial, customer relationship, and supply-chain management solutions for a variety of organization sizes.
After 78,000 hours of development time, Microsoft Dynamics GP  2013 was released in December 2012. Adding over 125 new features and a Web Client, this release marked the beginning of the cloud era for the Dynamics GP application.
The most recent version of Dynamics GP released was GP 2018 R2.
Dynamics 365 Business Central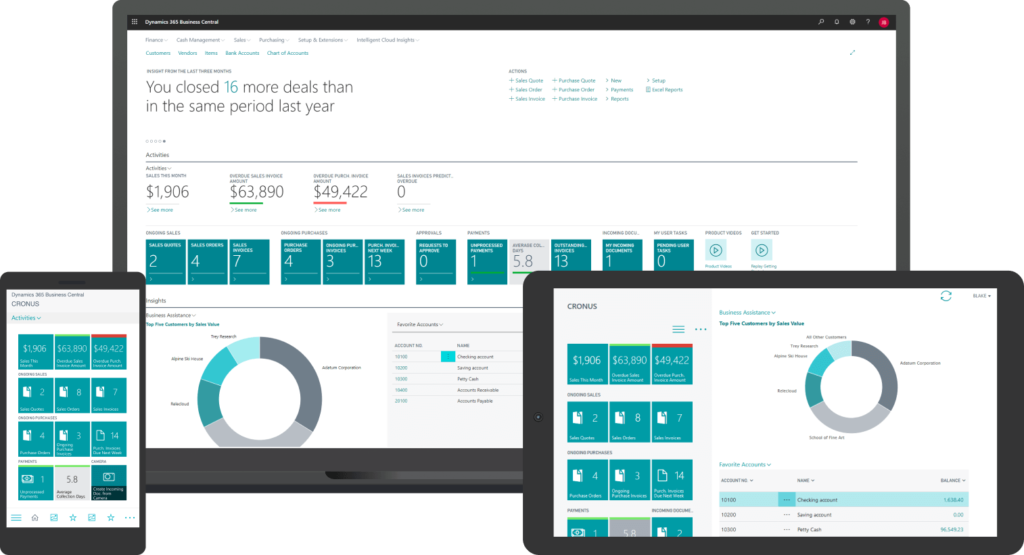 In 1984, three young entrepreneurs in Denmark released the precursor application to Navision (which would later become Dynamics NAV) under the name PC&C (Personal Computing and Consulting). In 1987, the developers released Navigator 1.00, which took PC&C's single-user application and turned it into a client/server-based accounting program which allowed multi-user access. The first version of Navision for Windows was released in 1993.
In 2000, Navision Software merged with Danish firm Damgaard, making it a 1000+ employee company with partners in 25 (primarily European) countries. A mere 2 years later, Microsoft acquired Navision and brought it under the Microsoft Business Solutions umbrella managed by Doug Burgum. Microsoft rebranded Navision (along with Microsoft CRM, Great Plains, Axapta, and Solomon) in 2005 as Microsoft Dynamics NAV.
Dynamics 365 Business Central was released in April 2018 as an "all-in-one business management solution." Built on the functionality, code, and development experience of Microsoft Dynamics NAV, Business Central is a native-cloud solution that delivers a modern, browser-based ERP experience. Designed to integrate directly with Office 365, Business Central features extensive customizability and extendibility options via PowerApps, Microsoft Flow, and Power BI.
In January 2020 Dynamics Business Solutions (DBS) became the first partner to develop a global HRMS-Payroll solution DynaPay inside Dynamics 365 Business Central using its native powerful development tool 'AL'.