Microsoft Power Automate: Intelligent
process automation
You want to create workflows between your favorite apps and services, connecting time-consuming tasks and processes across different applications? You are interested in custom workflow solutions for your entire company, certain national subsidiaries, departments, or specific functional roles? No problem with the cloud-based Microsoft Power Automate (formerly known as Microsoft Flow) service! Microsoft Power Automate enables process automation like never before.
Work less, do more: that's how you can leverage
Microsoft Power Automate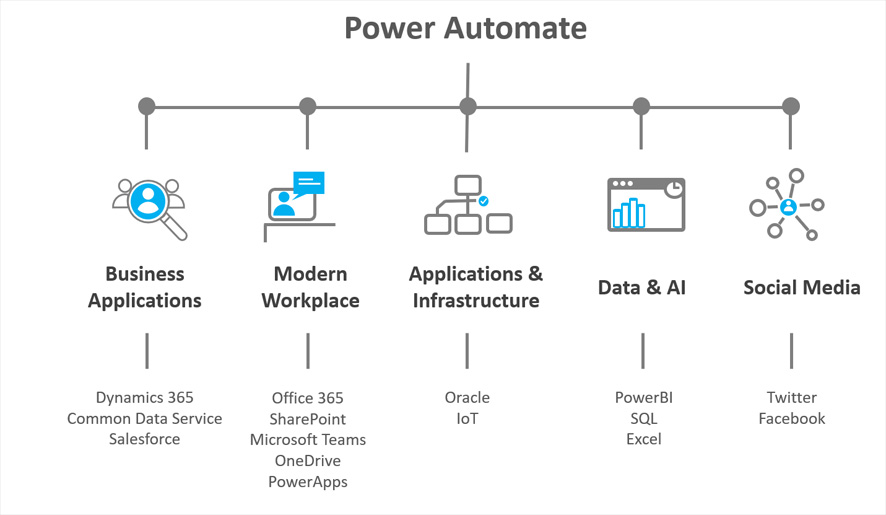 Design logic for your Power Apps
Use Power Automate to design logic for your Power Apps. Instead of writing code, use the point-and-click flow designer to build out your business logic. Easily run flows in your app with buttons, actions, and data inputs. These flows can fire-and-forget, or return data back to your app to display information to the user.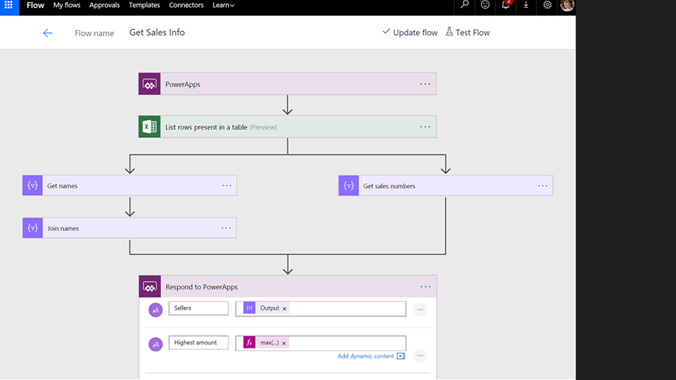 Guide your app users through processes
Keep users on track and ensure data consistency regardless of where it's entered with multi-stage business process flows. For example, you can create a flow to have everyone handle customer service requests the same way, or to require approvals before submitting an order.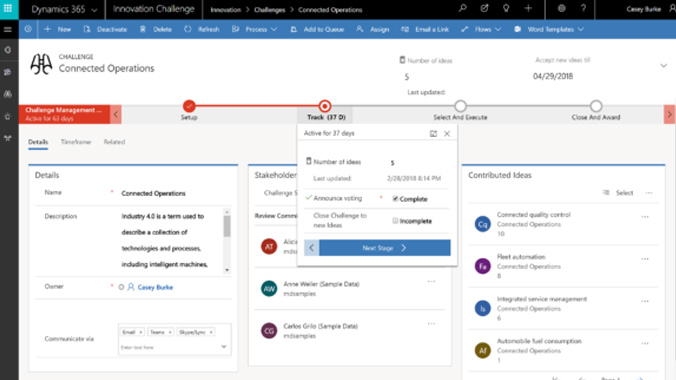 Automate across more than 200 connected sources
Connect to your data, wherever it is, to create automated workflows that enable collaboration and productivity for your business. Seamlessly share this task automation across your team. Deep integration with SharePoint, OneDrive for Business, and Dynamics 365 provides automation right in-context of the applications you use every day.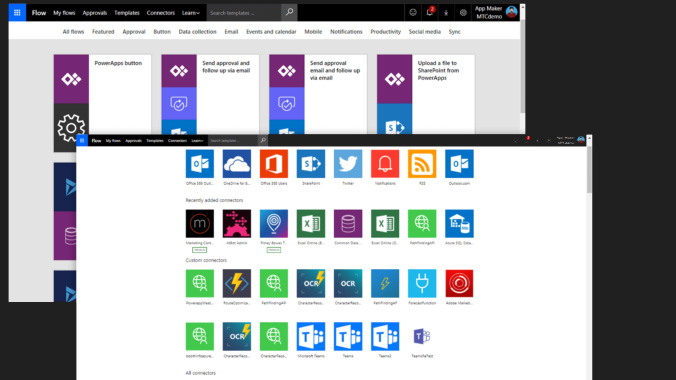 Extend your business processes
Create more powerful flows using a simple Excel-like expression language. Connect to more systems and have additional control through built-in extensibility for pro developers. For full management, create Azure Logic Apps from your automation workflows to manage them in Azure.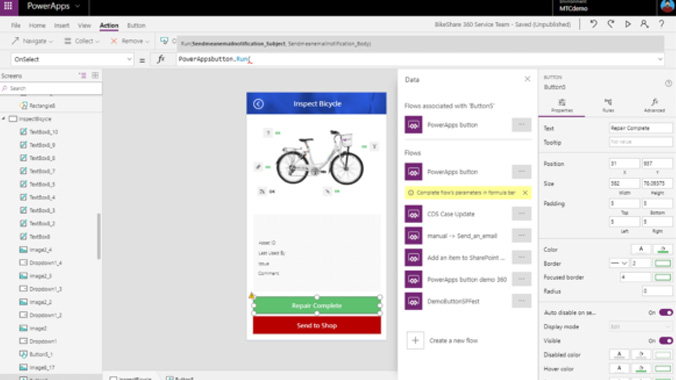 Enable your business to innovate
Power Apps enables a broad range of app scenarios to be created that infuse digital transformation into manual and outdated processes. Use both canvas and model-driven apps to build Power Apps that solve business problems for task and role-specific scenarios like inspections, field sales enablement, prospect to cash, and integrated marketing views.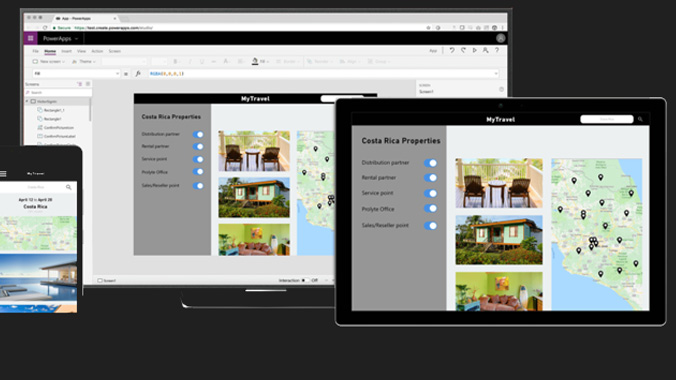 To ensure your investment in Dynamics 365 is fully leveraged by creating automation that supports user adoption

To streamline your daily activities and reduce effort spent on mundane tasks

To bring mobility and ease to your last-mile business processes
To automate workflows quickly with a no-code/low-code approach

To easily sync data between 200+ popular cloud apps and services, as well as on-premises data
To have the convenience of a large selection of templates or starting from a blank canvas
We're Here to Help
You have questions about Microsoft Power Automate, or want to start using the solution immediately?
Testimonials
"DBS was a pleasure to work with. They were very knowledgeable of their product as well demonstrated the flexibility of their product by addressing all of our business processing gaps. Dynamics GP has proven to be a champion for us. We have gained greater efficiencies and as a result cost savings due to the valued input from DBS. We have also undertaken an ERP support contract with DBS and we find they offer a professional service, excellent response times and great value for money!"

Hatem Mohsen , Applications Manager

Emirates Heritage Club (EHC)

" DBS has some top-notch Microsoft Dynamics GP consultants, who understand the business requirement and deliver right solution for that. DBS's knowledge, coupled with the functionality of Dynamics GP, is a vital component in our strategic planning. We also have been able to increase efficiency within our team and organization with the tools developed. "

Tarek Metwally , IT Head

United Printing & Publishing (UPP)

"Needless to say, we are a much more efficiently run business now due to the wonderful support of DBS team. I would highly recommend DBS and Microsoft Dynamics ERP to anyone."

Mohsen Rana , IT Director

Techno Cast Precast L.L.C

"DBS was a pleasure to work with. They were very knowledgeable of their product as well demonstrated the flexibility of their product by addressing all of our business processing gaps. Dynamics GP has proven to be a champion for us. We have gained greater efficiencies and as a result cost savings due to the valued input from DBS. We have also undertaken an ERP support contract with DBS and we find they offer a professional service, excellent response times and great value for money!"

Mohammed Elbarrawi , IT Head

United Printing & Publishing (UPP)