DBS– Robotic Process Automation (RPA) Services

Automation Consultancy
Finding opportunities for automation and putting these concepts into reality may help businesses boost their productivity, reduce their costs, and accelerate their rate of technological advancement. The services cover not only the examination of processes but also the selection of tools, their installation, and support..

Bot Development
The process of developing software robots or bots is known as bot development. It entails creating, testing, and refining bots that can carry out certain tasks or imitate human behaviour, increasing corporate productivity, efficiency, and profitability.

Process Discovery
Process discovery is the identification and mapping of current business processes so that their operation can be understood and areas for automation or improvement may be found. Businesses may enhance productivity and simplify procedures thanks to this.

Support & Maintenance
After RPA solutions are put into place, we continue to support and maintain them to make sure they keep working well. To make sure that organisations can fully take advantage of RPA's advantages, we keep an eye on performance, troubleshoot problems, and make modifications as necessary.
Who can benefit from robotic process automation?
Accounting and Finance Teams
Operations Teams
IT & Support Teams
HR Teams
Marketing & Sales Teams
Retail & E-Commerce Teams
Real Estate (Brokers, Agents, Developers, Managers, etc.)
Telecom Industry
Healthcare Providers (Doctor's, Dentists, Optometrists, Pediatrists, Audiologists, etc.)
Non-Profits, Charities, & NGO's
Manufacturing & Distribution
Retailers
Insurance Brokers & Agents
Legal Service Providers
Reduce operational expenses
Rather than paying a team of humans to carry out mundane, time-consuming tasks, our RPA technology will streamline your business processes for you. Automating these processes allows you to optimize your team roles and significantly reduce expenses, without sacrificing efficiency.
Efficient and effective growth
Streamlined, automated processes allow you to operate more efficiently without risk of human error, so you can increase your output and scale your business at a rapid rate.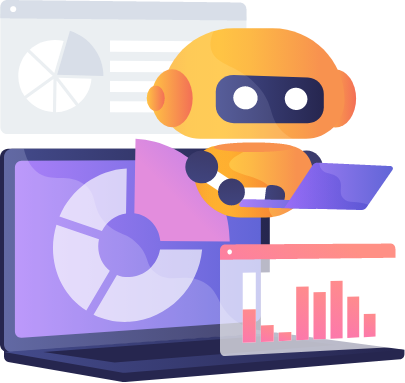 Our Expertise
When it comes to automate effort -intensive, repetitive tasks; RPA finds its relevance across almost all kinds of industries. Having served numerous clients from different domains and industrial backgrounds; DBS has gathered deep insights on cross-functional processes and is fully equipped with the expertise to design and implement customized RPA solutions within the agreed timelines and budgets.
Our RPA Developers can assist organizations with the following :
Designing RPA Processes including Process Design Documentation and Solution
Design Documentation
Scripting and Coding
RPA Testing and Deployment
Automation Enhancements and RPA Project Management
Bot Health Check and On-Going RPA Maintenance and Monitoring
Testimonials
"DBS was a pleasure to work with. They were very knowledgeable of their product as well demonstrated the flexibility of their product by addressing all of our business processing gaps. Dynamics GP has proven to be a champion for us. We have gained greater efficiencies and as a result cost savings due to the valued input from DBS. We have also undertaken an ERP support contract with DBS and we find they offer a professional service, excellent response times and great value for money!"

Hatem Mohsen , Applications Manager

Emirates Heritage Club (EHC)

" DBS has some top-notch Microsoft Dynamics GP consultants, who understand the business requirement and deliver right solution for that. DBS's knowledge, coupled with the functionality of Dynamics GP, is a vital component in our strategic planning. We also have been able to increase efficiency within our team and organization with the tools developed. "

Tarek Metwally , IT Head

United Printing & Publishing (UPP)

"Needless to say, we are a much more efficiently run business now due to the wonderful support of DBS team. I would highly recommend DBS and Microsoft Dynamics ERP to anyone."

Mohsen Rana , IT Director

Techno Cast Precast L.L.C

"DBS was a pleasure to work with. They were very knowledgeable of their product as well demonstrated the flexibility of their product by addressing all of our business processing gaps. Dynamics GP has proven to be a champion for us. We have gained greater efficiencies and as a result cost savings due to the valued input from DBS. We have also undertaken an ERP support contract with DBS and we find they offer a professional service, excellent response times and great value for money!"

Mohammed Elbarrawi , IT Head

United Printing & Publishing (UPP)