A total solution in one power-packed, integrated package
Exclusively built for Microsoft Dynamics 365 Business Central Customers. Automate the most complex pay rule scenarios for efficient and accurate payroll processing.
DynaPay Payroll Product Demo
DynaPay-BC is a Payroll and HR Management System which offers employee records management, payroll calculation and document management including expiry reminders.
DynaPay-BC is built inside Microsoft Dynamics 365 Business Central using its native development tool "AL" leveraging the full functionality of Dynamics 365 BC including workflows, notifications, document attachments and many more.
DynaPay-BC is hosted on Microsoft cloud; therefore, HR Managers can access the application from anywhere, at any time and on any device like computer, tab or mobile as well. Employees can also login to Employee Self Service system at any time, from any device and can apply for leave, documents. etc.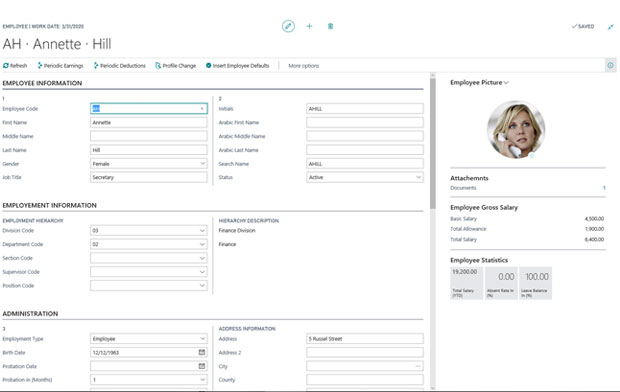 HR Management Dashboard for HR Managers
DynaPay-BC welcomes the HR Manager with an elegant dashboard where HR Manager can see the employees on leave, duty resumption overdues, employees' structure and more. Besides the HR manager can see a list of all documents belongs to employees as well as company, which are going to expire or expired already. Now you can avoid paying fines for expired documents.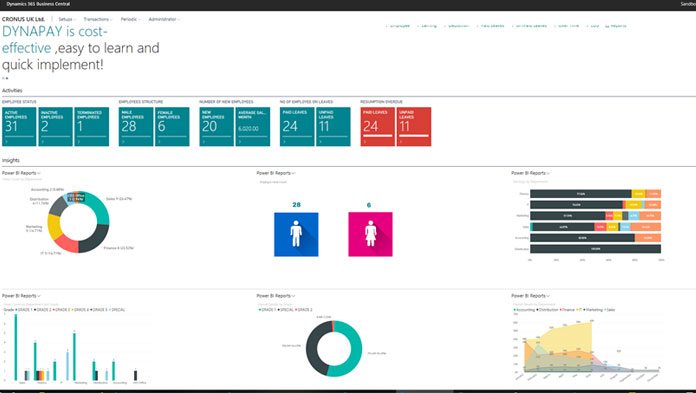 Employee Management Module
Main Features of Employee Records Management in this HR System
Maintain Employee's Basic Details.
Salary Details (Fixed Basic Salary, Fixed allowances, variable salary elements and calculated salary elements).
Work Experience history and Qualification details.
Leave management with tracking of duty resumptions.
Calculates Employee Gratuity as per contract type.
Employee Contact Details (Local Contact Details, Home country and local emergency contact.
Employee Passport and Visa details with issue and expiry dates.
Salary Increment History.
Record of all expenses occurred on Employee.
Manage Employee Documents (Attach unlimited documents with each employee record).
Run your payroll with confidence
Below are DynaPay Payroll Features of this Cloud HR Payroll System
Calculates Payroll for All Employees in One Click.
Calculates absent deduction and overtime salary as per defined formulas.
Enter extra allowances and deductions for the month in payroll.
DynaPay module creates WPS Sif file in SIF and Excel Format.
Posting the payroll journals to the General Ledger of Dynamics 365 BC with a single click.
DynaPay-BC payroll module prepares pay slips for all employees and can supply to them.
Prepares Salary reports with details which you can print or download in pdf format.
DynaPay Payroll Module offers Payroll reports by department, grade, designation, work site and many other groupings.
DynaPay for Dynamics 365 Business Central Benefits
The only and the first complete Payroll/HRM solution designed and developed only for Microsoft Dynamics 365 Business Central customers.
Allow customers to work on single environment and get the service from a single provider.
Single solution to avoid the hassle, the cost and the technical difficulties of the integration of siloed systems.
Can be extended to support any payroll regulations using its advanced built-in formula builder.
Affordable in price with a monthly subscription model covering an unlimited number of employees and an unlimited number of users.
Employee Contact Details (Local Contact Details, Home country and local emergency contact.
Seamless integration with Dynamics 365 Business Central financials.
Levering Microsoft Dynamics 365 capabilities (Power BI, Workflows, Email notifications, ..etc.)
Developed using same Dynamics 365 Business Central native development language "AL".
DynaPay Mobile App.
DynaPay-BC offers a native mobile app with the following features:
Conveniently accessed on-the-go from any device.
View comprehensive pay information, submit time off requests or other requests from any smartphone.
Securely access pay statements and accrual balances and easily view or edit employee profile information 24/7
Reduce paper waste, delivery costs, and the administration hassle of distributing pay stubs.
Submit payment requests and Claim reimbursements.
View dashboards easily with real-time access.
NEW Dashboards available NOW in DynaPay!
For product live demonstration or evaluation version of the product please feel free to contact us
Testimonials
"DBS was a pleasure to work with. They were very knowledgeable of their product as well demonstrated the flexibility of their product by addressing all of our business processing gaps. Dynamics GP has proven to be a champion for us. We have gained greater efficiencies and as a result cost savings due to the valued input from DBS. We have also undertaken an ERP support contract with DBS and we find they offer a professional service, excellent response times and great value for money!"

Hatem Mohsen , Applications Manager

Emirates Heritage Club (EHC)

" DBS has some top-notch Microsoft Dynamics GP consultants, who understand the business requirement and deliver right solution for that. DBS's knowledge, coupled with the functionality of Dynamics GP, is a vital component in our strategic planning. We also have been able to increase efficiency within our team and organization with the tools developed. "

Tarek Metwally , IT Head

United Printing & Publishing (UPP)

"Needless to say, we are a much more efficiently run business now due to the wonderful support of DBS team. I would highly recommend DBS and Microsoft Dynamics ERP to anyone."

Mohsen Rana , IT Director

Techno Cast Precast L.L.C

"DBS was a pleasure to work with. They were very knowledgeable of their product as well demonstrated the flexibility of their product by addressing all of our business processing gaps. Dynamics GP has proven to be a champion for us. We have gained greater efficiencies and as a result cost savings due to the valued input from DBS. We have also undertaken an ERP support contract with DBS and we find they offer a professional service, excellent response times and great value for money!"

Mohammed Elbarrawi , IT Head

United Printing & Publishing (UPP)