Microsoft's Most Experienced Dynamics GP Partner
More than 50,000 small and midsized organizations around the world run their businesses on Microsoft Dynamics GP (Great Plains). Dynamics GP is a business solution that is quick to deploy, easy to use, and with an extensive family of third-party add-ons, is easy to extend. From financials and human resource management to manufacturing and operations, Microsoft Dynamics GP brings people and systems together to support your business ambitions.
Microsoft Dynamics GP focuses on helping customers reduce the cost and complexity of growing their business.
As a Microsoft Dynamic Partner With Competencies in Microsoft Dynamics ERP and CRM, DBS has helped thousands of businesses implement and use Dynamics GP to improve their supply chain, manufacturing and operations.​

Increase productivity
with great end-user experiences customized for each user's job role.

Streamline business processes
through automation and efficient management tools.

Enable new ways of working
through secure collaboration and shared business processes between companies and their suppliers, customers and partners.
Focus on a single business solution with Microsoft productivity  integrations
Microsoft Dynamics GP works together with Office 365 to deliver enhanced productivity, collaboration, mobility and business intelligence. Microsoft Dynamics GP interoperates with Office 365 functionality such as document management and collaboration, Excel-based analysis, presence and instant messaging, transaction initiation through Skype for Business, and many other features available in the cloud with Office 365. ​​
Microsoft Dynamics GP integrates with Microsoft Dynamics CRM to connect your business by sharing common data across front office and back office teams. The Connector for Microsoft Dynamics GP connects information for the most common touch points between the ERP and CRM system.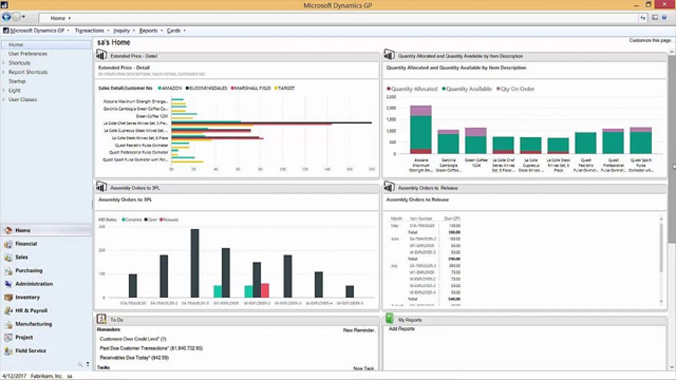 Focus on a single business solution with Microsoft productivity integrations
Expanded workflows to streamline financial, purchasing, sales, payroll, and project expense approvals
Service based architecture that lowers the cost and time required for customers to create and modify business solutions built on Dynamics GP
Business Analyzer R7, a mobile app that provides business intelligence using Dynamics GP, Microsoft SQL Reporting Services, and Microsoft Excel charts
Single sign on through integration with Microsoft Azure, helping users work seamlessly across devices and application
With Microsoft planning to release new Dynamics GP features periodically, we can plan to see magnificent updates in the near future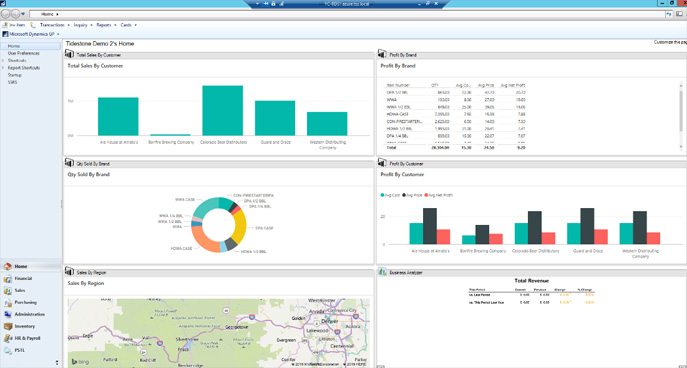 DBS provides Microsoft Dynamics GP implementation, consulting and support out of over 50 locations in UAE and GCC. As a Microsoft Dynamic Partner With Competencies in Dynamics ERP and CRM, we provide the highest level of service and expertise to deliver results on time and on budget
Testimonials
"DBS was a pleasure to work with. They were very knowledgeable of their product as well demonstrated the flexibility of their product by addressing all of our business processing gaps. Dynamics GP has proven to be a champion for us. We have gained greater efficiencies and as a result cost savings due to the valued input from DBS. We have also undertaken an ERP support contract with DBS and we find they offer a professional service, excellent response times and great value for money!"

Hatem Mohsen , Applications Manager

Emirates Heritage Club (EHC)

" DBS has some top-notch Microsoft Dynamics GP consultants, who understand the business requirement and deliver right solution for that. DBS's knowledge, coupled with the functionality of Dynamics GP, is a vital component in our strategic planning. We also have been able to increase efficiency within our team and organization with the tools developed. "

Tarek Metwally , IT Head

United Printing & Publishing (UPP)

"Needless to say, we are a much more efficiently run business now due to the wonderful support of DBS team. I would highly recommend DBS and Microsoft Dynamics ERP to anyone."

Mohsen Rana , IT Director

Techno Cast Precast L.L.C

"DBS was a pleasure to work with. They were very knowledgeable of their product as well demonstrated the flexibility of their product by addressing all of our business processing gaps. Dynamics GP has proven to be a champion for us. We have gained greater efficiencies and as a result cost savings due to the valued input from DBS. We have also undertaken an ERP support contract with DBS and we find they offer a professional service, excellent response times and great value for money!"

Mohammed Elbarrawi , IT Head

United Printing & Publishing (UPP)